I'm not going to lie: when Porsche unveiled the 911 Dakar at last year's LA Auto Show — complete with ultra-slick footage of the thing sliding through dirt and kicking up an enviable cloud of dust — I was a little bit underwhelmed. As someone who adores all things WRC and who has loved the Dakar Rally for decades, I should have been thrilled. But I wasn't.
Why? Because, just weeks before, Porsche released a video of a heavily-modified 911 climbing a goddamn mountain. That car, lifted on portal axles and rolling on giant dirt tires barely contained within outrageous fenders, looked utterly epic. The production 911 Dakar? It looked all the world like a Carrera GTS with a two-inch lift kit and a $222,000 price tag. How good could it be?
Dear reader, after two days spent sliding around the desert in the 911 Dakar, I'm here to tell you: It is epic.
Full Disclosure: Porsche wanted me to drive the 911 Dakar so badly, they flew me out to Lisbon, and then on to Morocco, where they put me up in a luxury glamping site so far removed from civilization that I only had one bar of signal.
G/O Media may get a commission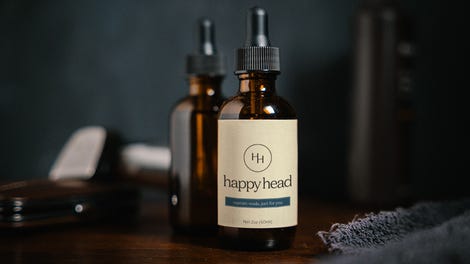 Grow those luscious locks back
This proprietary, prescription-grade topical Finasteride is proven to regrow hair in just a few months.
Yes, the 911 Dakar really is, basically, a lifted Carrera GTS — 50 mm (1.9 inches) lifted, to be specific, but able to hike itself up a further 30 mm (1.2 inches) at the touch of a button. There's no air suspension here; this 911 rolls on steel springs — taller, softer ones, with elongated struts to match. The same basic mechanism that adjusts the spring perches to lift the nose on a standard 911 is here applied to the rear axle as well. The hydraulic pump is suitably upgraded to handle the extra work, now mounted where the rear seats should be.
Did I mention the 911 Dakar has no rear seats? They've been pulled in the pursuit of lightness. That, plus carbon-fiber-reinforced-polymer bodywork (hood and bumper), lighter glass, and a lightweight battery keep the 911 Dakar's weight to 3,538 pounds, just 20 more than a standard GTS. That's despite the chunkier suspension and a fair bit of underbody cladding that looked decidedly more flimsy than the skid plates on my Subaru but, surprisingly, did a great job of keeping the underside of this $222,000 Porsche safe from all the rogue rocks and other obstacles I drove over in Morocco. More on all that in just a moment.
The engine is the same as the GTS, which means 473 hp and 420 lb-ft of torque, unchanged internally though breathing through a new air intake system designed to better handle situations like the dust in Morocco. The rest of the drivetrain is likewise unmodified: Power is directed through all four wheels via Porsche's eight-speed PDK automatic. No option for a manual here.
Given how much is the same, beyond the suspension and bodywork, what is actually different?
Just software, as it turns out, and while that may sound like a cop-out, trust me when I say it's enough. Porsche added two new drive modes here, toggled as usual via the steering-wheel-mounted rotary knob. Instead of Sport+ you now have Rallye and Off Road. The latter is self-explanatory, a mode expressly for going places 911s seemingly shouldn't. Dial the car into this mode and the Dakar lifts to its maximum ride height and tells the center differential to do its best impersonation of a locked transfer case.
In this mode, the Dakar offers an approach angle of 16.1 degrees, departure of 18.8, and breakover of 19 degrees. That won't take home any ribbons from King of the Hammers, but it does at least match the Porsche Cayenne. Not bad.
The Rallye mode is more my style, though. This mode can be used with the suspension at either height, and here the center differential actually has a rearward bias. Why? The better to drift with, my dear. That, plus extra wheelspin allowance from the traction and stability controls and even a dedicated gravel launch-control mode, is supposed to make for some WRC-style antics.
I sampled Rallye mode on some hard-packed sand and gravel in the Moroccan corner of the Sahara Desert, an area that played host to the original Dakar Rally before it headed off to Saudi Arabia. This is where it all started, and the 911 Dakar felt immediately at home. With a quick twist of the steering wheel-mounted mode selector, the sports car transformed into a rally beast. Quick, clumsy stabs of the throttle sent it leaping forward as if it were on asphalt. The grip from the new, bespoke, 19- and 20-inch Pirelli off-road tires is phenomenal.
But would it drift? When I wanted things to slide, I found Rallye Mode's wheelspin allowance to be too limited. Just as I was starting to properly get things moving sideways across Morocco's amazing terrain, I'd feel the training wheels appear. The Porsche's traction control would cut power and I'd be left lurching forward in a decidedly unceremonious way. To drift here, you really need to keep the wheel pointed straight and rely on momentum to carry you through.
Me, I like to be a little more active with my countersteering. Thankfully, a long press of the PTM toggle on the dashboard sends all the nannies packing. At that point, the Dakar really turned into a delightful monster, the car pivoting and sliding exactly as I wanted. It was, I believe, as blissful a moment as one can have in the desert.
I will say, the lack of a handbrake lever is a bit unfortunate, especially since Ford figured out how to put one in a $30,000 Mustang. But that just means you'll have to work a little harder on your Scandinavian flick, which the 911 Dakar performs with aplomb, even in the Sahara.
When the terrain became more challenging, it was time to toggle over to Off Road Mode. In this, at maximum height, the 911 Dakar scampered up and over steep dunes and through soft, deep sand that I'd later struggle to even walk across.
The Porsche felt at home. Meanwhile, I felt utterly thrilled, in complete disbelief that I was doing this in a 911, one that I'd previously thought could not possibly be up to the task. Whether sliding across gravel or climbing up enormous dunes, the Dakar was more than capable.
Just as impressive, the Dakar remained just as good on those transit stages between the dunes. It still felt more or less like a standard GTS as we cruised down Morocco's broken stretches of asphalt, between little towns full of excited kids who jumped and waved and smiled (and, occasionally, flipped us the bird) as our convoy of Porsches went peacocking by.
We were hard to miss. Most of the 911 Dakars that Porsche sent to Morocco came complete with one of the factory decal packages. Buyers have a choice of four retro-inspired rally tribute liveries, with the hero option certainly being the 1984 Rothmans-esque layout, part of the $28,470 Rallye Design Package, with contrasting white and blue paint with red and gold stripes plus a trademark-easing "Roughroads" text on the side. It's close, but doesn't quite hold a cigarillo to the real thing.
To my eye, all the decal designs are a bit gaudy for road use, but you can also spec out your own color from among six standard hues — or get anything you like with the $12,830 Paint to Sample option. Whatever you choose, make sure it pairs well with all the black plastic cladding on the Dakar, because there's a lot of it wrapping around those skid plates. Again, they're mostly for show, but we definitely caught a little terrain while rock-crawling and we always made it to the other side without incurring mechanical damage or dislodging underbody panels.
As I came out of the desert one last time and handed over the key to the (now utterly filthy) Martini-liveried Dakar that had been mine for a couple of days, I was forced to admit that my initial impression was dead wrong. The 911 Dakar may be mostly GTS, but it's also incredibly good. I just wish it didn't come at such a premium. A production cap of 2,500 adds real exclusivity here, and Porsche certainly has a history of charging a premium for prestige (see: Sport Classic). But from behind the wheel, surfing up the side of a dune and kicking up an enviable cloud of dust just like on those first promo videos, that experience was well worth the price of admission.
Denial of responsibility!
Web Times is an automatic aggregator of the all world's media. In each content, the hyperlink to the primary source is specified. All trademarks belong to their rightful owners, all materials to their authors. If you are the owner of the content and do not want us to publish your materials, please contact us by email –
webtimes.uk
. The content will be deleted within 24 hours.