On a Saturday morning in the Lake District, perhaps at the base of a popular fell or along the shores of a placid lake, you might think you were at a countryside Crufts. The region's footpaths are bustling with spaniels, labradors and golden retrievers – and the ubiquitous cockapoo, of course – all in procession, dragging their owners up hills or along forested trails, tongues out, tails wagging, noses poised to sniff the behind of anything they might pass.
The Lakes often sells itself as the dog-friendly capital of the UK – and for good reason. I challenge you to find a Cumbrian pub that doesn't have a jar of treats on the bar. But there are plenty more places for the UK's increasing population of dog owners (29% of UK adults at the PDSA's last count) to spend their holidays besides the Lakes.
Having spent the last three years romping around the UK and Ireland for my latest dog-friendly travel book, with my always-alert Manchester terrier Arty by my side, I've happened on some of the most (and least) dog-friendly destinations. I love Northumberland for its vast open beaches, Lincoln for its cavernous canine-friendly cathedral and Shetland for its utter emptiness – though be careful not to disturb the ground-nesting birds in spring and summer.
We dog owners are an intrepid lot, and almost anywhere you go you'll find excellent dog-loving campsites, pet-centric cottages and hotels that offer as many amenities for your companion as they do for you. Here are 20 of the best.
Sunnyside, Robin Hood's Bay, North Yorkshire
If your dog is the type that prefers to lounge on plush cushions and sofas rather than rough it in a dog bed on the floor, Sunnyside is going to satisfy their daily napping requirements. This cottage in charming Robin Hood's Bay, which has a dog-friendly sandy beach with no summer restrictions, is run by the local pet-shop owner, and they've thought of everything. There are spare leads, a dog toy box and even dog robes to help them dry off after a day on the beach. Your dogs are allowed on the furniture as long as you're using the throws provided, and they can snooze in the bedroom with you. The village has lots of dog-friendly pubs and cafes for eating out – try Brambles Bistro. And walks along the coast will knacker out even the most energetic of dogs. Don't miss a ride on the North Yorkshire Moors railway from Whitby to Pickering, too.
From £235 for two nights, sleeps four, two small dogs or one large, baytownholidaycottages.co.uk
Brucefield estate, Forestmill, Clackmannanshire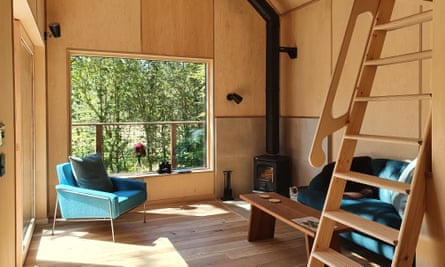 If sleeping amid a 1,000-acre woodland and waking to the sound of jays, woodpeckers and chaffinches is your bag, book into Brock. This wooden hut is a schenbothy – a Scandi-meets-Scottish tiny home built on the Brucefield estate just north of the Forth estuary. For dogs, there are beds and bowls provided and plenty of walking routes through the estate – keep them on a lead around the red squirrels and free-roaming deer – and humans can enjoy evenings on the wraparound deck, binoculars in one hand and a beer in the other, looking out for buzzards in the trees.
From £176 a night (including £40 dog supplement), sleeps two humans and one dog, canopyandstars.co.uk
Bracken Hide hotel, Portree, Isle of Skye
A new opening for Skye in 2023, the Bracken Hide is one of the few hotels on the island to allow dogs into its restaurant and whisky bar. This isn't the only reason it's a cracking dog-friendly stay, though: its 27 cabins are scattered on a hillside overlooking Loch Portree, offering ample outdoor space for a morning or midnight roam with the dog, and there are plush beds for both people and their pets. The only place dogs aren't allowed is the sauna, which is best paired with a dip in the plunge pool while the dog is snoozing back in your room.
B&B from £225, brackenhide.co.uk
Argaty Cottage, Doune, Perthshire
This modest little cottage has three bedrooms and an enclosed garden, but it's the location within the Argaty Estate that is most enticing: on your doorstep you'll find red squirrels bouncing among the trees, a mesmerising red kite feeding station, where a frenzy of birds gathers daily to feed on meat put out by the rangers, and evidence of elusive beavers down by the water. Join one of the estate ATV buggy tours – the dog can jump in the back – to explore the working farm and wider, wilder estate, or book the kids into a pond-dipping session to meet the creatures that lurk beneath the surface of their thriving waterholes.
From £375 for three nights, sleeps six, no dog limit, argatycottage.com
Skylark cabin, Ilfracombe, Devon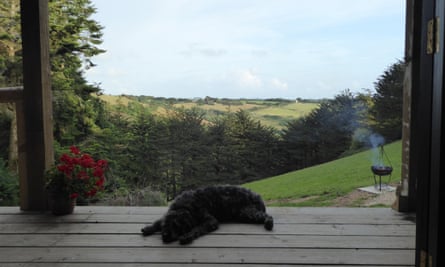 Sitting on the fringes of Exmoor national park, where dramatic clifftop walks await, Skylark is the sort of place you'll struggle to leave once you've settled in. This hillside wood cabin has views over Combe Martin and a bathtub on the outside deck, where you can soak knowing the power you're using is coming from the owner's onsite wind turbine. With livestock nearby, dogs must be on leads here, but off-lead adventures can be had in the secure paddock by the car park.
From £127 a night, sleeps two humans and two dogs, pawsandstay.co.uk
McLaughlin's cabin, Market Drayton, Shropshire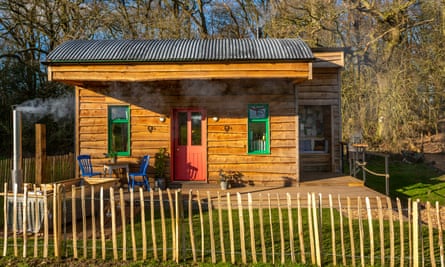 This Shropshire tiny home is a lesson in reclamation and recycling, as so much of its interiors, from the corrugated iron splashbacks to the vintage rug wall hangings, has been reused, repurposed or reinvigorated. Once you've tired the dog out on the trails of the nearby Dorothy Clive Garden or the Trentham estate, it's all about sitting – either in the single-person hot tub while the dog roams in the enclosed garden, on the veranda's cosy little love seat with a sundowner or in front of the log burner inside with a dog snoring at your feet.
From £125 a night, sleeps two humans, one dog, pawsandstay.co.uk
Vineyard Cottage, East Ruston, Norfolk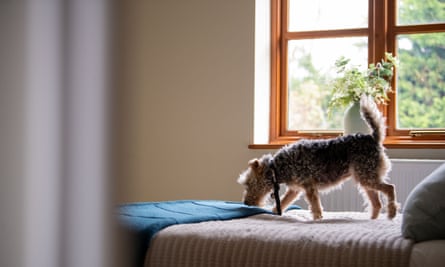 With the edge of the Broads on one side and the vast, flat expanse of the Norfolk coast on the other, Vineyard Cottage is in prime position for long walks by the water – and perhaps a paddle for willing dogs. But location isn't the only thing that earns this house a place on this list; if dog-friendly means dogs are allowed, then this place is dog-obsessed. There's a fully enclosed garden, throws and towels for dogs, dog crates and beds on request, and a shower in the garden for washing paws after muddy walks. And, unlike almost anywhere else you'll book in Britain, they're even allowed to sleep on the bed with you.
From £698 a week, sleeps four humans, unlimited dogs, eastrustoncottages.co.uk
Pheasant Inn, Tattenhall, Cheshire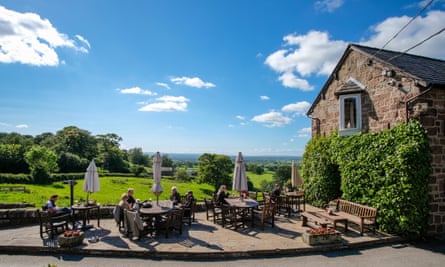 More than 300 years old and built using sandstone from the very hills it's plonked atop, the Pheasant Inn is a cracking pub with rooms in the Cheshire countryside. Each bedroom has its own design with colourful printed wallpaper and quirky artworks – such as squirrels in flat caps drawn on old newspaper – while the food is a double AA-rosette affair. The Sunday roasts with their crispy yorkshire puds are especially rewarding, and there's even a menu for the dog. The highlight here, though, is the view from the beer terrace out the front: an endless expanse of green opens out beneath the pub as far as the eye can see.
From £148.50 a night, thepheasantinn.co.uk
Bamburgh Castle Inn, Seahouses, Northumberland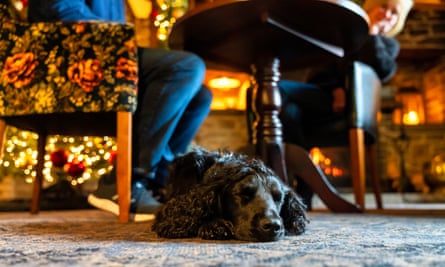 Its wide, sandy beaches, castles that tower over the sea and proximity to the hiking trails of a wild national park make Northumberland a compelling place for anyone on holiday. But for dog owners, there's one big bonus: those beaches and their dunes are dog-friendly all year round, without a summer restriction in sight. From the modest, homely rooms at this Seahouses pub you can wander down on to the beach at any time of year and let the dog run all the way to Bamburgh and its red sandstone castle (which they're welcome to explore, too).
From £112.50 a night, £10 per dog a night, inncollectiongroup.com
Low Mill Guest House, Bainbridge, Yorkshire Dales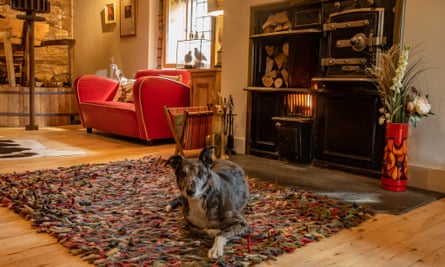 Right in the heart of the Wensleydale area lies this 18th-century corn mill where dogs are given as warm a welcome as their humans by owners Neil and Jane and their beautiful sighthound, Dotty. There are just three rooms here, each uniquely decorated with colourful printed wallpapers and irreverent artworks, and some have original mill equipment that still works to this day. Dogs can't join you in the breakfast room but they'll love roaming the gardens where red squirrels can be seen snacking at the feeding boxes.
From £110 a night, lowmillguesthouse.co.uk
Acorn Inn, Evershot, Dorset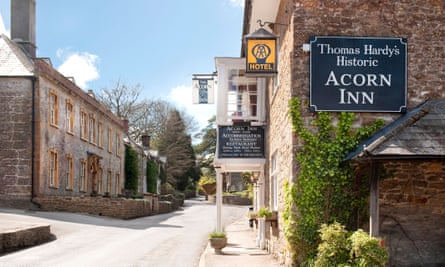 Old coaching inns rarely get more atmospheric than this: the Acorn is all oak-panelled nooks, creaking wooden beams and flagstone floors, and it looks just as it did when Thomas Hardy featured it in his 19th-century novel Tess of the d'Urbervilles. Dinner here is the highlight – expect a classic gastropub menu that's elevated by exceptional produce and careful crafting in the kitchen. Dogs will get biscuits from the bar and water on request, and the staff can give you the lowdown on where to walk. Don't miss a hike up the hill where the Cerne Abbas Giant lies 8½ miles away.
From £140, dogs £15, acorn-inn.co.uk
Aurora Shepherd's Hut, Radcot, Oxfordshire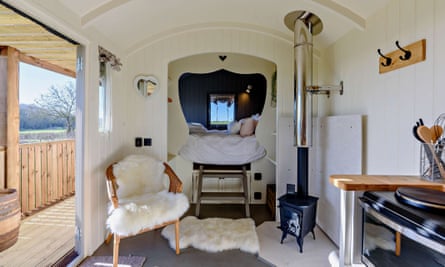 Stay in this shepherd's hut in the Oxfordshire countryside and you'll be nestled up to the irresistibly bucolic Cotswolds, where almost endless, undulating fields of sheep are punctuated by little amber-tinted towns and villages with thatched cottages and quaint stone bridges. Avoid the nearby tourist-heavy hotspots of Burford and Bibury and instead head to the likes of Minster Lovell for walks amid ruins by the River Windrush or into Bampton for a glimpse of that classic Cotswolds architecture (Downton Abbey fans will recognise the church). The shepherd's hut has a lovely log burner, making this a brilliant winter break, and it sits within a fully enclosed paddock so the dog can roam free.
From £299 for three nights, sleeps two, one dog (but flexible), staycotswold.com
Luccombe Manor, Isle of Wight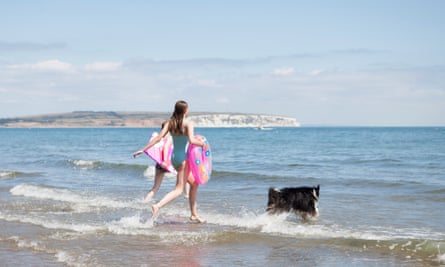 Venturing over to the Isle of Wight can be quite the adventure for a dog – the ferry journey is especially fun if the weather's good, but there's a fully dog-friendly lounge on board the Wightlink vessels if not. Luccombe Manor is the place for posh dogs to stay: blankets and beds are provided in the bedrooms, there's an outdoor wash station for muddy or sandy paws, and treats are provided on arrival. They even provide a dog kitchen where you can prepare their dinner if need be, and they're allowed to join you for breakfast in the restaurant. Luccombe Manor welcomes children too, and you can all hang out by the pool when you're not enjoying nearby Shanklin beach.
From £90 a night, one well-behaved dog £40 per booking, luccombemanor.co.uk
The Rose, Deal, Kent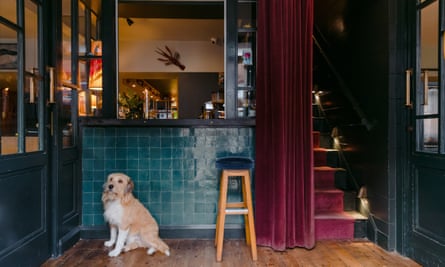 The Kent coast is packed with lovely beaches, and the shingle stretch at Deal is a pleasing spread with its 1950s pier and smattering of fishing boats jauntily sitting on the shoreline. Just a few streets behind the coastline lies the lovely Rose pub. Rooms have bold prints and yellow claw-foot tubs, and dinners in the dog-friendly restaurant have been commended by the likes of Observer food critic Jay Rayner.
From £100 a night, one dog allowed, therosedeal.com
Horseshoe Cottage, Dawlish Warren, Devon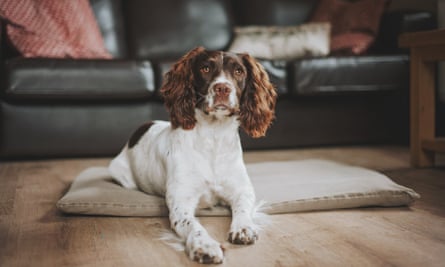 Part of the Cofton Holidays park but offering a little more privacy, Horseshoe Cottage is in prime position for walking and cycling in the 25-hectare (65-acre) Dawlish Countryside Park and along the year-round dog-friendly beach at Dawlish Warren. You'll have an enclosed patio to keep the dog safe and access to all the nearby park's facilities – including the pools and an off-lead dog-exercise paddock.
From £539 a week, sleeps four, dogs at £50 each a week or £30 each per short break (maximum two), coftonholidays.co.uk
Hayloft, Watergate Bay, Cornwall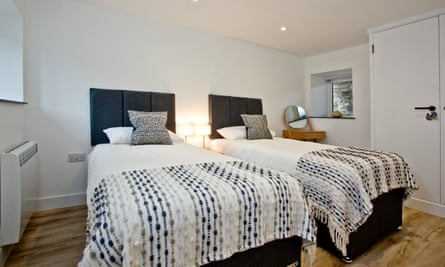 The interiors of the Hayloft are high end but pleasingly minimalist, letting the views outside do the talking – this barn conversion is surrounded by a seemingly endless expanse of lush green fields. Beyond these, though, lies one of Cornwall's most dog-friendly beaches: the vast Watergate Bay. Just a few minutes' drive or a 30-minute walk down to the sand, at low tide it's the perfect place for a game of Frisbee or fetch with the dog. The house has a fully enclosed garden and a store for surfboards or paddleboards.
From £445 for three nights, sleeps four, two dogs at £30 per dog per week (or per stay), luxurycoastal.co.uk
Musselwick House, St Ishmaels, Pembrokeshire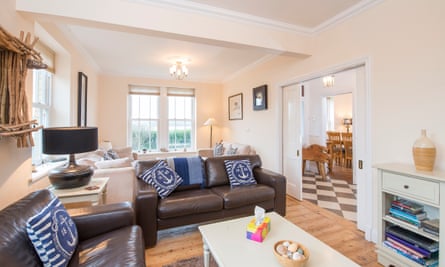 The Pembrokeshire coast is packed with wide, sandy beaches where dogs can run free all year round – Marloes Sands is one spectacular stretch near here – but this house has its own quiet beach right outside the back gate. There's a fully enclosed garden and sublime sea views from the living room and bedrooms, and with a pair of binoculars you can watch the waders at the Gann nature reserve from your sofa.
From £1,015 a week, sleeps eight humans and two dogs, £15 per pet per week (or short break), coastalcottages.co.uk
Hawarden estate, Deeside, Flintshire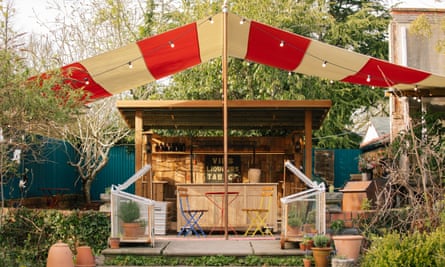 Just a hop over the Welsh border from handsome historic Chester and only a 20-minute walk from the nearest train station at Hawarden, the Hawarden estate has 26 well-spaced camping and glamping pitches on its meadows amid the woodland. Bring the dog by train or drive your own camper or caravan there to commune with nature, play games in the clubhouse and eat divine local produce from the extensive onsite farm shop. There are cooking classes and workshops in the Walled Garden, pick-your-own fields and an explorers' trail through the estate, plus the local dog-friendly pub is a short walk away. For dogs that prefer a little more luxury, book the Beekeeper's Hut (from £150 a night, book via thegoodlifesociety.co.uk) within the Walled Garden.
From £44 a night, hawardenestate.co.uk
Triumphal Arch Lodge, Colebrooke, County Fermanagh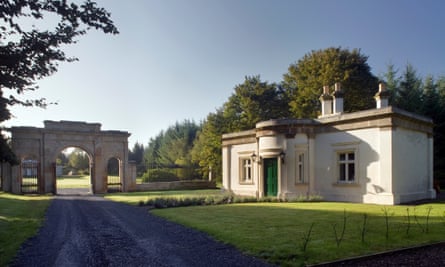 Set within a 400-hectare working estate that once belonged to the Northern Irish premier Basil Brooke, this modest little gatelodge is a charming little retreat. Its interiors are a throwback to simpler times, with antique furniture and not a television or wifi router in sight. This is a place for switching off, watching out for the local pine martens and woodpeckers, and getting outside with the dog to explore the island-dotted shores of Lough Erne – dogs can even tag along on Erne Adventures' hydrobikes.
From £116 a night, sleeps four humans and one dog, irishlandmark.com
Buckland Farm Camping, Wellington, Somerset
Few campsites are as dog-friendly as Buckland Farm, where if you book ahead you can bag one of two fenced-in pitches for tents or campervans, offering total freedom for your dog to roam while you're enjoying your breakfast. You needn't worry if you miss out, though, as there's still a fenced-in paddock for off-lead exercise, and there are even agility classes on site. Beyond the site lie the Blackdown Hills, which are begging to be explored with all four paws.
From £22 a night, £1 per dog, bucklandfarmcamping.com
Denial of responsibility!
Web Times is an automatic aggregator of the all world's media. In each content, the hyperlink to the primary source is specified. All trademarks belong to their rightful owners, all materials to their authors. If you are the owner of the content and do not want us to publish your materials, please contact us by email –
webtimes.uk
. The content will be deleted within 24 hours.