Even if you've never been to Austin, you're likely aware that the city is known for its barbecue, tacos, and margaritas. Notice how I didn't mention pizza? While our collective pie obsession is well-catered to across the Northeast and in west coast cities like Portland and Seattle, Austin's pizza scene has left something to be desired in years past. Well, that ends now. With the pizza-scape expanding thanks to the opening of some key players in the city, the best pizza in Austin may be some of the best we've had in the country.
It's no secret that, here at Camille Styles, our love of pizza runs deep. We've crafted countless pizza recipes and Camille's pizza parties are, in short, epic. So we don't have to go into detail about just how many slices we put away to have it known: when it comes to pizza, we're not afraid to claim our expertise. (Though to be clear, a lot of pizza was consumed.)
Featured image by Kristen Kilpatrick at Bufalina.
Image of All Day by @sagelovesfood
The Best Pizza in Austin: 8 Pizza Restaurants That Deliver, Slice After Slice
While the best restaurants in Austin span the spectrum of cuisine, pizza holds a special place in our hearts. We love its endless versatility, how it can transition from casual to fancy with a flourish to its toppings, and the congenial act of sharing a pie. In short, pizza is a perfect food—and we found the best pizza places in Austin to prove it. Ahead, our team shares our top picks for the city's best slices.
Images by Negley Stockman
Best Deep Dish: Via 313
"This is not your average pizza place," claims our Executive Producer, Michelle. As our trusted source for all things gluten-free (try her strawberry shortcake, now) we believe her when she calls Via 313's GF crust "the best in town." Of course, with deep-dish offerings galore, those more focused on downing a Detroit-style pie are likely to overlook the gluten-free options. But with its signature thick, chewy crust and standing as the city's connoisseur of toppings combos, Via 313 has it all.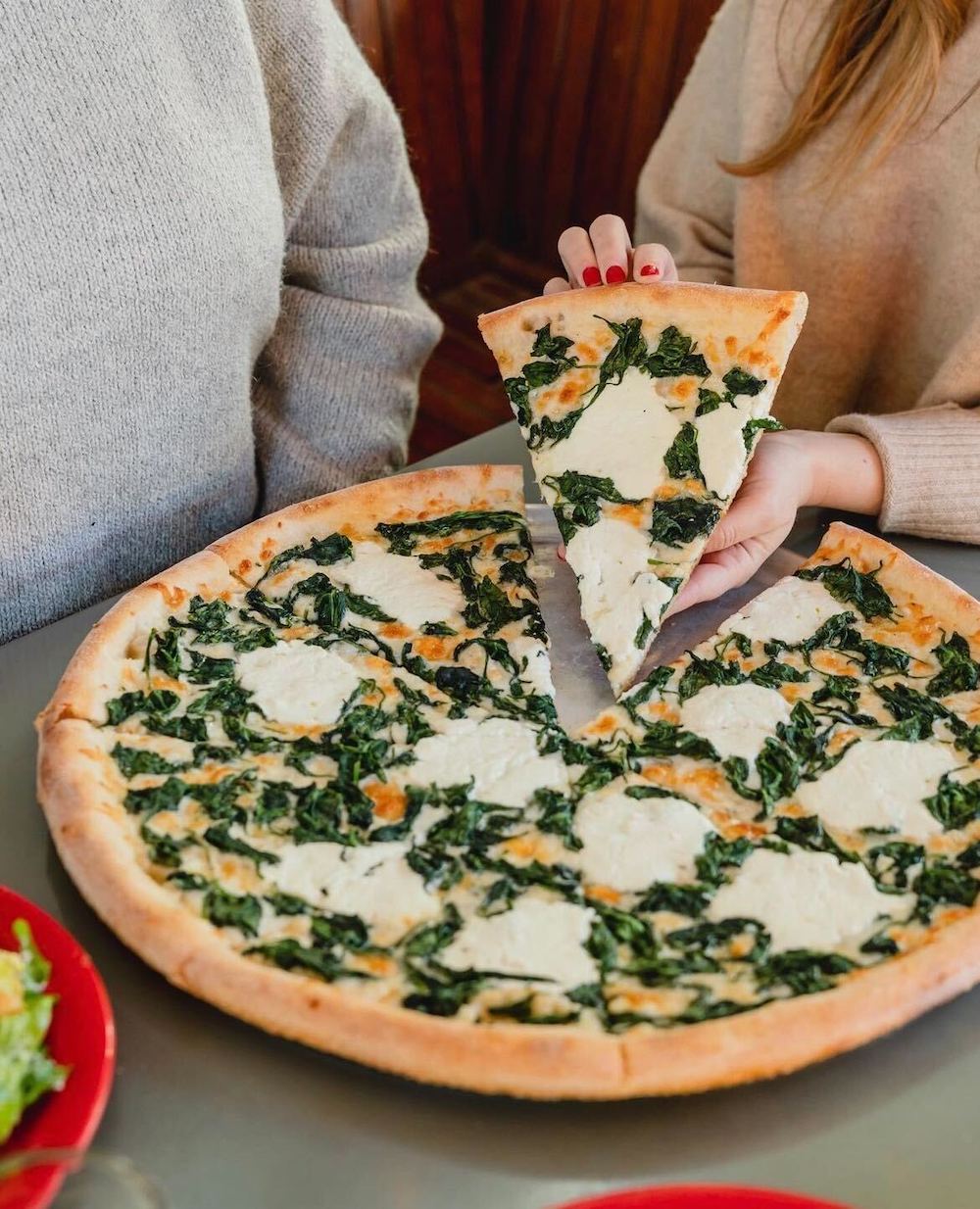 Image by Jane Yun
Over the years, we've made our love of Home Slice known. We've highlighted its family-style outdoor seating in our best Austin patios and even included it in our guide to throwing a memorable bachelorette party. (Amazing pizza, a location on South Congress, and the perfect garden for sipping on a glass of rosé—how could we not?) But for our Content Marketing Director, Brittany, it's the true "New York pizzeria vibes" that solidify Home Slice's place in our hearts. For Austinites in the know, Home Slice is an obvious choice. It's held its own in the city for 17 years, honing in its old-school feel that breeds comfort, community, and the nostalgia inherent in your favorite slice.
Images by Claire Kelly
Worth the Money and Hype: Sammataro
One of Austin's newest pizza go-to's, word is spreading that Sammataro is the place to visit—and we have to agree. The New York-style joint grew up with humble beginnings, slinging pies from an East-side food truck. Now, it's evolved into an ethos, with an intentionally crafted brand that conveys just how multi-dimensional pizza can be. Austin transplants and longtime locals agree: this is one of the best pizzas in the city if you're craving that hand-tossed, thin-crust crunch. The slices are big and meant for folding, so take heart: it's not what you look like when you're enjoying the best pizza in Austin—at Sammataro, it's al about the experience.
Note: As far as pizza goes, Sammataro leans on the more expensive side. But with quality ingredients, hand-tossed dough, and impeccable execution, the pies are worth every penny.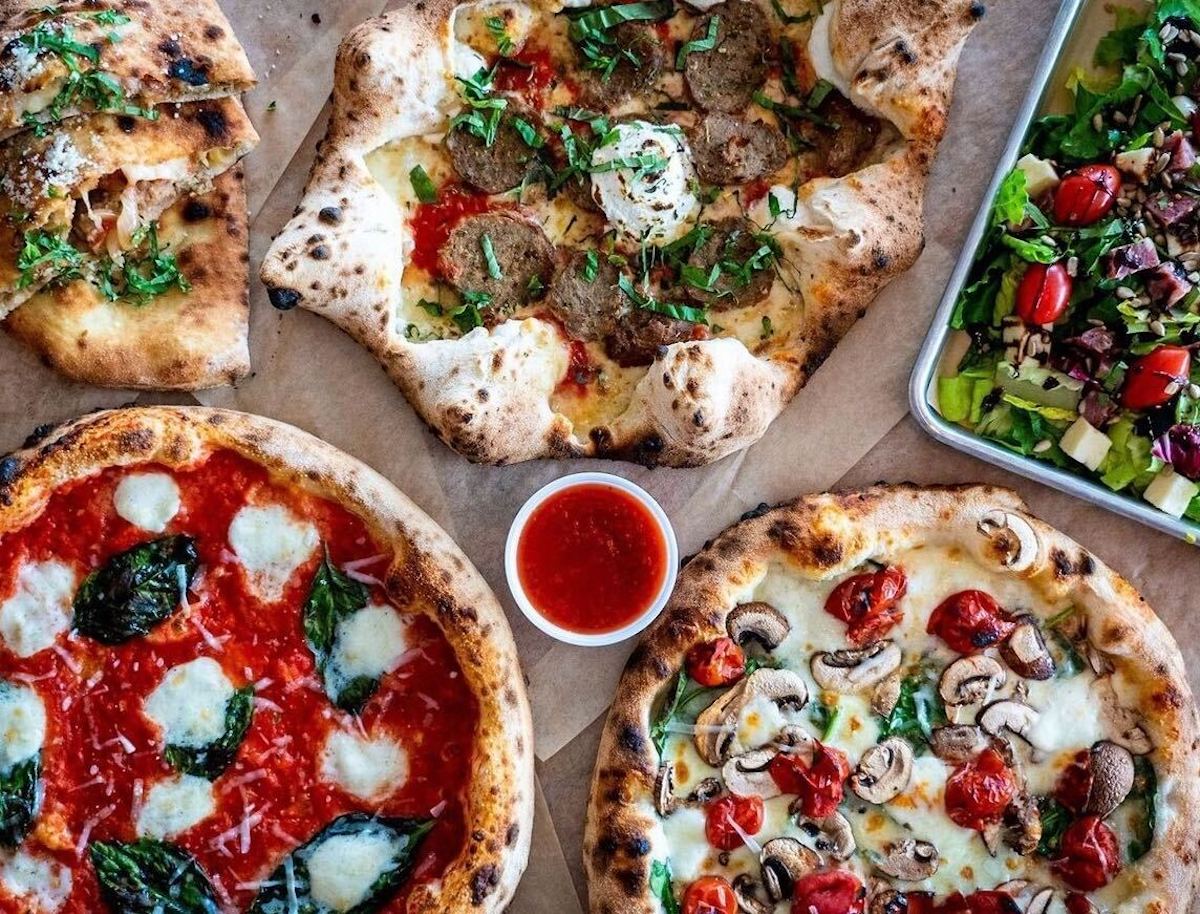 Image courtesy of DeSano
Best Neapolitan: DeSano
When your partner claims a pizza spot as their fave, run, don't walk—and name it your date night standby. This was the case for Michelle, who noted that her husband "couldn't stop talking about this place after trying it." And as far as date night is concerned, it's not just the handmade crusts, Italian-imported cheeses, or the countless other options (meatballs, calzones, and picture-perfect cannolis) that help DeSano stand out. With a rustic, Italian comfort vibe, the restaurant is the perfect spot to cozy up with a glass of wine and a slice in each hand.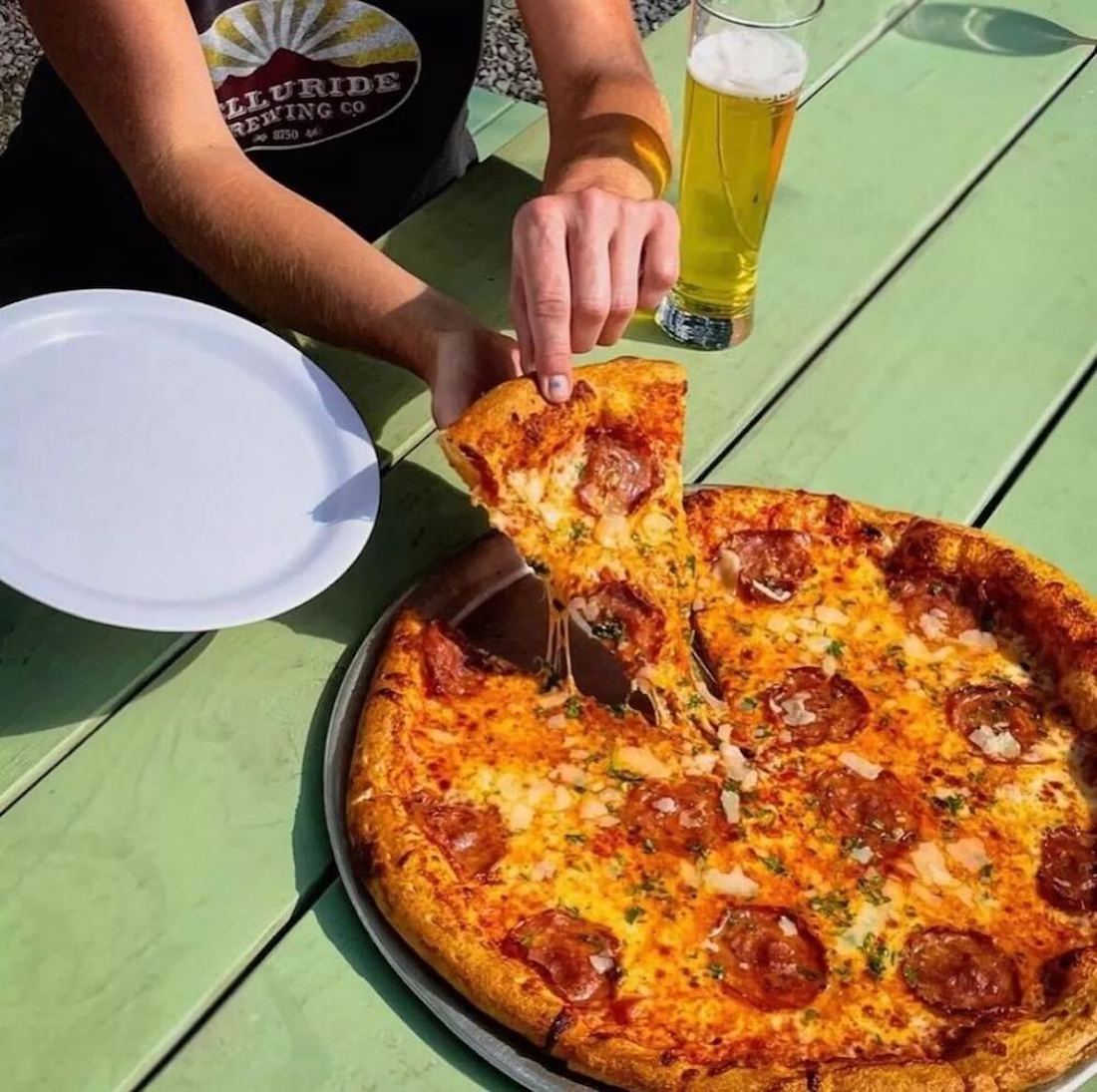 Image courtesy of The ABGB
Best Gluten-Free: The ABGB
"Come for the brewery, stay for the incredible pies," says Brittany. The ABGB was a top pick on our Austin patio roundup, with the pizza and beer pairing locked in and live music always on tap. It's the sort of place you visit when you're craving a catch-up with friends or an easy weekend meal out with a side of all the best Austin has to offer. And if that sounds like most spots in the city, what sets The ABGB apart the combined impact of it all. The pizza is perfected—fresh and hot—to align beautifully with any brew. And with a backdrop of local bands and a friendly, neighborhood vibe, the effect is incomparable. Oh, and don't sleep on the gluten-free options—they're some of the best we've ever tasted.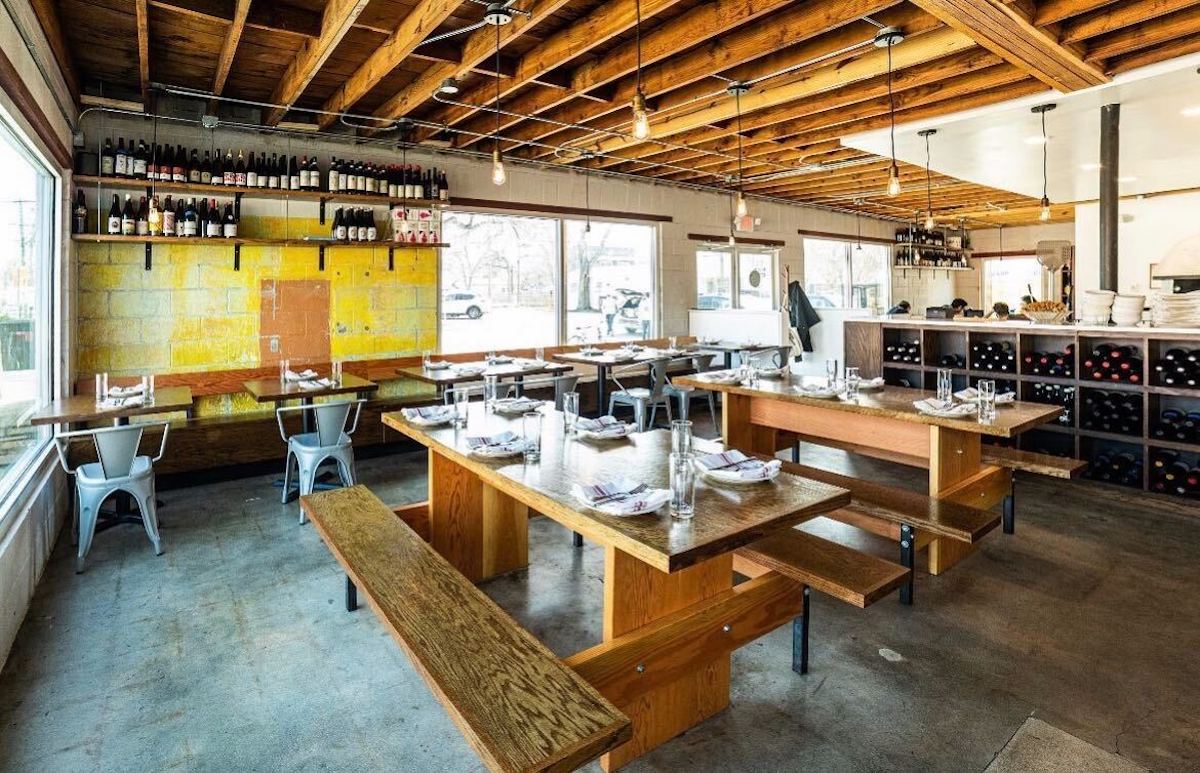 Image by Richard Casteel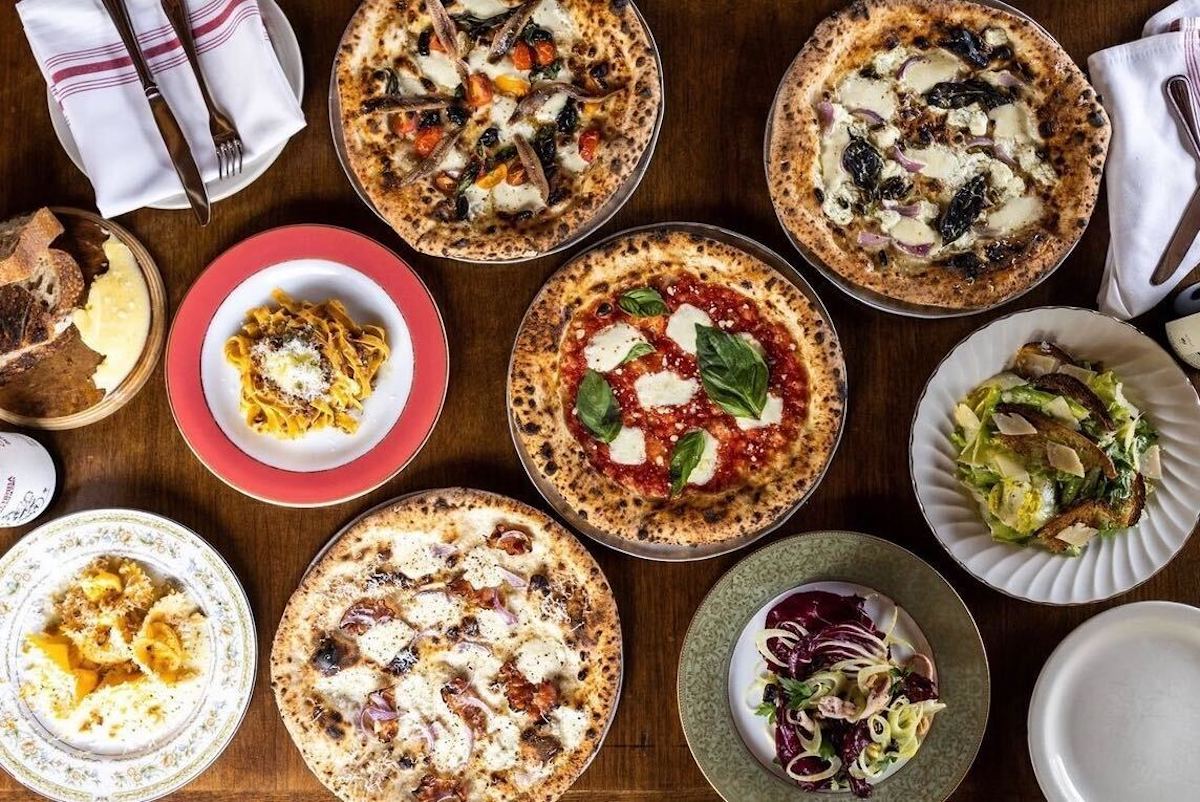 Image by Richard Casteel
If you're wondering where Camille goes when she's not pulling pizzas from her Ooni pizza oven at home, Bufalina is the spot. Her review says it all.
"IMHO this is the best pizza in Austin. The menu is small but perfect, with a handful of delicious sides, pastas, and a great wine list. Bufalina nails the blisteringly thin crust with a crispy exterior/chewy interior that for me, defines a truly great pizza."
Bufalina is just upscale enough for an evening out without ever feeling pretentious. Visit with your partner, a friend, or a small group. It has some of the best ambience in Austin.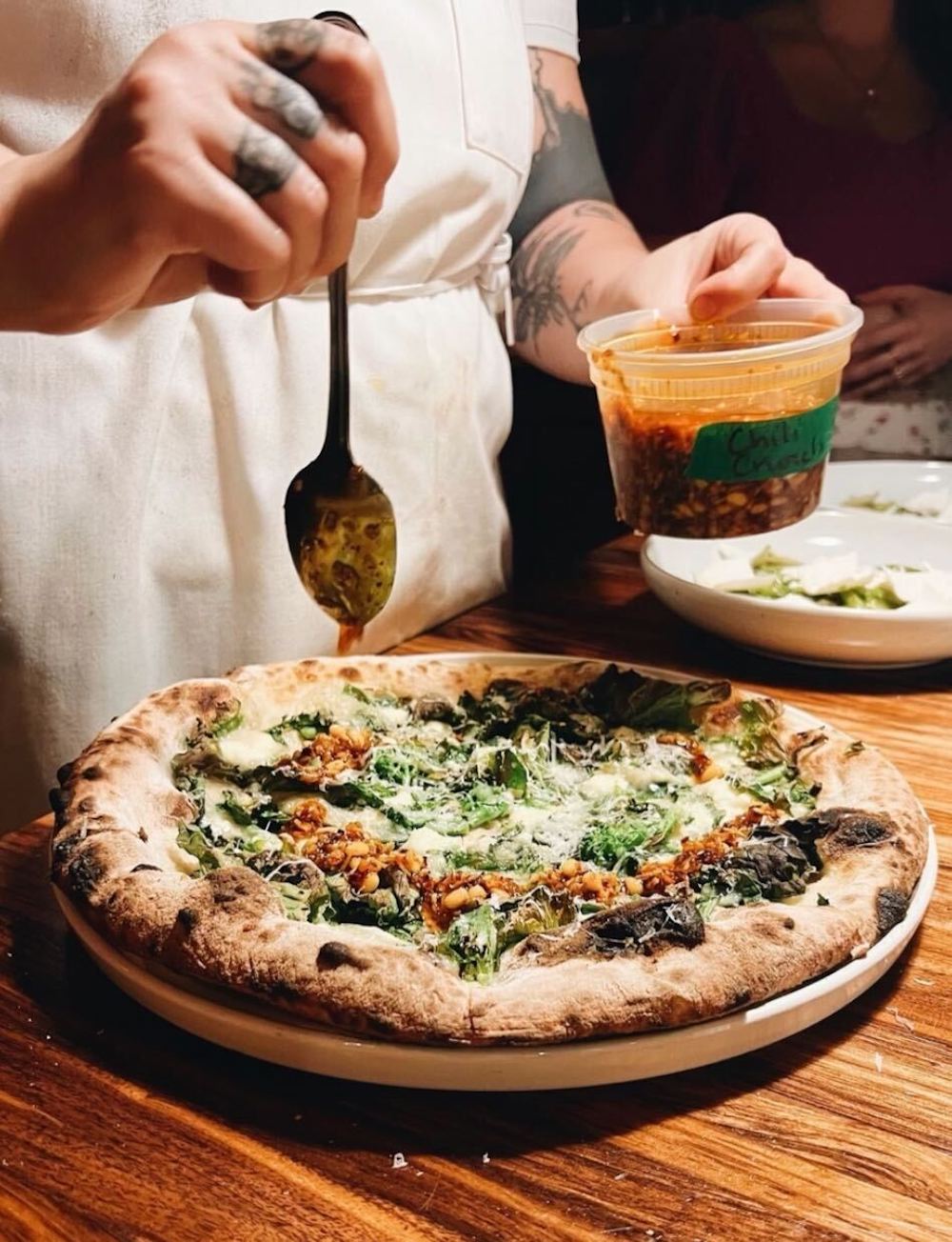 Image courtesy of Pecan Square Café.
Pecan Square Café made it onto our list of the best restaurants in Austin for its undeniable charm. There's fresh pasta, a combined snacking and happy hour ($8 spritzes, y'all!), and of course, some of the best pizzas around. Camille loves the Pecan Square Café for its "refined date night atmosphere" and recommends pairing the kale and sausage pizza with a seasonal spritz. A perfect evening, no?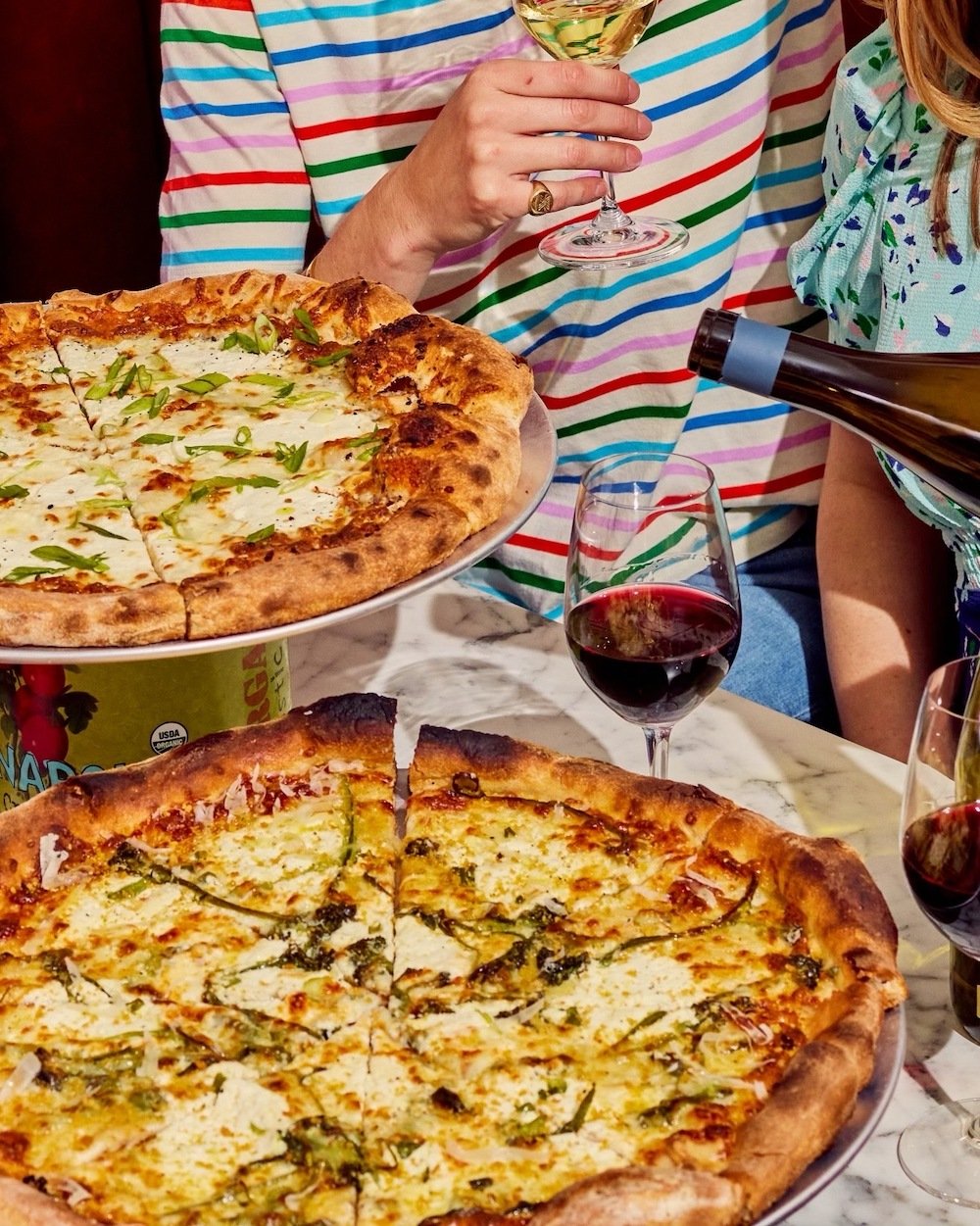 Best Single Slices: Allday
Camille counted down the days until Allday's opening, excited to have a new casual pizza spot in her neighborhood. She's since become a regular—and so have her neighbors. "Sold by the slice or as a whole pie, All Day turns out solidly delicious pizza, and bonus points for being the sister restaurant to next-door Flo's Wine Bar," she says.
And though I went on about how well The ABGB does beer and pizza, Allday may have a one-up. Pro tip: Enjoy your pizza and save room for the soft-serve gelato. According to Camille, the combo is "dangerously good."
Denial of responsibility!
Web Times is an automatic aggregator of the all world's media. In each content, the hyperlink to the primary source is specified. All trademarks belong to their rightful owners, all materials to their authors. If you are the owner of the content and do not want us to publish your materials, please contact us by email –
webtimes.uk
. The content will be deleted within 24 hours.