There have long been concerns about the so-called middle-income trap, a stage of economic development in which income levels stagnate, preventing a country from joining the ranks of rich nations.
China has set a goal of reaching the per capita income level of a medium-developed country by 2035 – with a projected per capita gross domestic product (GDP) of at least US$20,000.
It is in the process of moving from middle- to high-income as China's per capita GDP exceeded US$10,000 in 2020.
China's hi-tech ambitions under threat from inadequate scientific literacy
But China may still become caught in the middle-income trap if economic growth stagnates, and reaching its goal could prove difficult to achieve amid its population crisis.
Academics on both sides have warned that an ageing population, as well as economic pressure caused by tense US-China relations and hobbled private investor confidence, are creating obstacles to the growth of China's middle class.
A Chinese government human resources and social security official had already predicted in December that the coronavirus pandemic, plus a "bleak global economic recovery" had led to downsizing and cuts in hiring, meaning fewer new urban jobs for the middle class.
Since 2017, Beijing has said China has 400 million middle-income earners, or around 28 per cent of the 1.4 billion population.
The group of businesspeople, managers, doctors, lawyers and teachers are seen as a key driver of the economy, but they are experiencing a brand new kind of anxiety, with their income growth set to slow or even stagnate – challenging a focus of the government's long-term blueprint for national prosperity.
Industries are laying off staff or cutting pay for white-collar employees and executives, as sluggish domestic stock and property markets revalue their wealth status and prompt a spending rethink.
It is not a good sign for Beijing. It has been a long-standing consensus globally that only a rapid expansion of China's middle class can ensure global investors believe that the mainland market is good enough to allow increased discretionary spending on higher quality goods and services.
But Kelly Fang and her husband, a Guangdong-based entrepreneur, are considering whether to cut jobs for the first time at their cosmetics manufacturing business that they have been running for more than a decade, because of sluggish post-pandemic demand.
"My husband and I are feeling great financial pressure because the business keeps shrinking," she said.
Kelly Fang said she and the private entrepreneurs she knows are feeling the chill of sluggish domestic demand, even though coronavirus restrictions have been lifted.
And she said that this year's annual 618 shopping festival – China's second-largest online shopping event, in June – was even worse than last year, when coronavirus-induced lockdowns resulted in big losses for suppliers.
"We expect domestic demand to be weak for a long time, so we are also cutting back on unnecessary spending ourselves," said Kelly Fang, whose son is studying at an international high school in Hong Kong.
"The tuition fee, rent, and living expenses are over HK$600,000 (US$76,700) a year. My wish for this year is to be able to pay all the bills.
"The number of newly indebted families will increase rapidly, either because of failures in investment or shrinking business demands."
And her cousin, Steven Fang, a senior engineer within the overseas business sector of a leading internet company, is worried about the possibility of being fired.
"My biggest wish for this year is to keep the job, because my current employer is already a leader in the industry, so the next employer will not be able to pay my current level of income anyway, or even half of the current income. And more importantly, I don't know how long the next job will last," Steven Fang said.
Across the Pacific, flat wage growth and a drop in university enrolments are seen to be impeding growth of the US income median – a cornerstone of the country's historic prosperity.
Wages and salaries had risen sharply in 2020 and 2021, according to the US Bureau of Labour Statistics.
But US wages and salaries rose by only 5 per cent in the 12 months ending in March, just slightly above 4.7 per cent in the previous year, as inflation rose due to supply-chain disruptions, including China's coronavirus lockdowns.
China's medical spending grows as population ages but insurance fund risks loom
And undergraduate enrolments fell by 11.85 per cent from 2009-21, US Department of Education figures showed, with 15.4 million in 2021.
And the American middle class has fallen from 61 per cent of the population in 1971 to 50 per cent last year, according to a Pew Research Centre analysis of government data.
"The American middle class is dying, and it's difficult to make a living nowadays, especially to buy a house or a car," said Albert Ma, a University of California, Berkeley, political economy major.
Ma, who moved to San Francisco from Shandong province with his family when he was young, earned his bachelor's degree this year and has sent around 150 resumes to potential employers over more than five months.
And even when he gets close to a job, employers start "ghosting" him, he added.
So, in July, Ma opened a mobile coffee cart on the university campus during the school's summer break. But he eventually put that on hold, due to a lack of funds.
Pew said financial "hardships" caused by Covid-19 have hit mostly lower- and middle-income American families, with the median income of middle-income households having dropped by 2.1 per cent.
"Wage growth in the US has been strong at the bottom, but perhaps not enough to move lower-wage workers into the middle class," said Harry Holzer, professor with the McCourt School of Public Policy at Georgetown University in Washington.
"Our college enrolments are also declining, which might not be great for future middle class growth."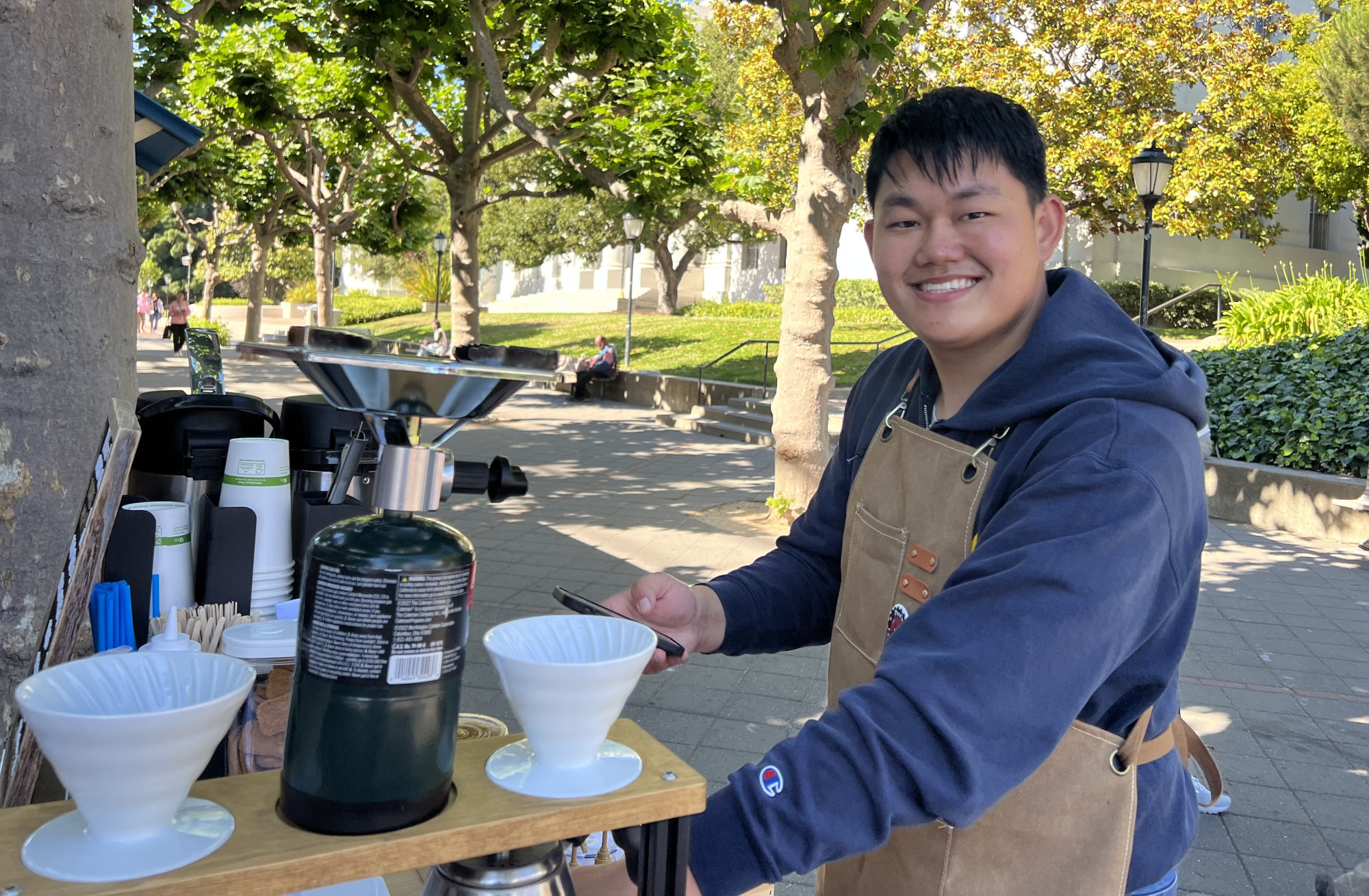 People without university-level degrees normally earn a lower level of income, Holzer said, though enrolment could pick up again if a slowing economy threatens jobs.
Employers, though, are exploring alternatives to university degrees as hiring criteria, he added.
At one of America's oldest hi-tech firms, IBM, half the US job openings do not require a bachelor's degree, spokeswoman Jessica Chen said, and "we're working on getting that number even higher".
"The skills a person has today could be obsolete in a few years," Chen said. "Embracing candidates with industry-recognised certifications and those who have been skilled through alternative routes increases the size of the qualified talent pool."
China's parents splurge to give 'gold-swallowing beasts' an educational edge
But the American middle class is, according to Derek Scissors, resident scholar at the American Enterprise Institute public policy think tank, much richer than the group in China.
"You can try to adjust for purchasing power, but it's much more difficult than some people pretend, and the vast bulk of the Chinese middle class is in cities and the cost of living there is not much below that of the US," he said.
Back in China, some growing industries may come under pressure as trade frictions and technological conflicts intensify with the West, further affecting middle-class employment and income, Chiu added.
Jade Zeng, owner of a 70-square-metre (753-sq-ft), three-bedroom flat, and two condos in Shenzhen, said a lot of people in her city have borrowed heavily to invest in property, but found that values are declining.
Zeng and her husband owe 60,000 yuan (US$8,245) in monthly mortgage payments, on top of tuition for their son's private school.
"Every month, there's no surplus at all," Zeng said. She and her husband work as executives for tech and financing firms.
The total value of Zeng's properties has fallen by a quarter compared with the peak in 2020, she added, with her family walking a tightrope between enjoying a middle-class lifestyle with all the trimmings and dropping out of the group outright if the couple lose their jobs.
Job losses in high-income sectors have taken another swipe at the middle class in China.
'Hang on to cash': China's would-be homebuyers opt to wait out housing downturn
And according to the 21st Century Business Herald in April, 19 of the major 22 brokerage firms had seen an obvious decline in their per capita salaries in the past year.
Household job stability in the first quarter of 2023 fell below the line of prosperity, to the lowest level since the beginning of the pandemic, according to a survey by the Southwestern University of Finance and Economics.
The number of properties up for sale by owners has surged in many Chinese cities, with 52,397 listed on the secondary market in Shenzhen by mid-May, up from 35,000 at the end of January, according to the Shenzhen Real Estate Intermediary Association.
In Shanghai, there were around 171,00 vacant flats on the secondary market in mid-May, with only 18,000 second-hand homes traded in April – down by 26 per cent from March, 21jingji.com reported.
And as 70 per cent of assets held by urban households – most which are in the middle class – are in property, according to the People's Bank of China, this is a worrying trend.
Chinese income growth was 3.8 per cent in the first quarter of 2023, down from less than 4.5 per cent a year ago, Liu Yuanchun, president of Shanghai University of Finance and Economics, told a forum in May.
"My income can't support our daily life since the epidemic," said Yan Chao, a 34-year-old operations manager at a Shanghai-based advertising company, who is afraid of losing her middle-class status.
"My parents are retired doctors and have been paying most of the mortgage and living costs for my family."
Any future health crises or geopolitical upsets will take down even more middle-class income earners, some Chinese citizens fear.
"If the relationship between China and the United States continues to deteriorate, or if there will be another epidemic or even a sudden war, any one of them we can't afford, but the worries are getting worse every year," Steven Fang added.
Patrick Bacalso, who immigrated to the US from the Philippines when he was six, has held information technology jobs for around 20 years and has been on a steady path to his current management position.
He owns a house in the pricey San Francisco Bay Area and focuses on the needs of his two children rather than trying to advance further.
"You could always want more, but I'm already pretty satisfied," Bacalso said.
US lower-class wages are also going up "more than anyone else's" because the population was willing to take on unpopular blue-collar work during the coronavirus, Holzer at Georgetown University added.
Denial of responsibility!
Web Times is an automatic aggregator of the all world's media. In each content, the hyperlink to the primary source is specified. All trademarks belong to their rightful owners, all materials to their authors. If you are the owner of the content and do not want us to publish your materials, please contact us by email –
webtimes.uk
. The content will be deleted within 24 hours.